Chair Options - Build Your Own
If you are seated in the same position for many hours each day, it's important that you take good care of your posture and lower back. Incorrect seating can cause ongoing and painful problems. By building your own office chair, you're able to select each and every component to ensure your seating position suits your body type.
Choose Your Chair Options
OFFICE CHAIR TYPE
The first step to building your own custom office chair is to select the chair type. Arteil offers a range of chair types for homes, offices, schools and waiting rooms including mesh, executive and plastic stools.
Fabric options for your new custom chair include leather, polyester, wool or vinyl.
Fabric & Colour
To match the décor of your office space when building your own office chair, it's important to select the right colour and fabric.
Select from hundreds of fabrics and colour combinations for your new custom office chair with Arteil. 
OFFICE CHAIR ARMS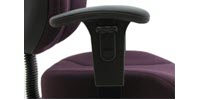 Your new custom office chair can be designed to suit your needs, with options to have arms or no arms depending on what you prefer.
Both the adjustable and chrome adjustable arm options from Arteil can be adjusted to suit your seating position or removed should they not be necessary.
Chair Mechanism
Arteil has a range of mechanisms to choose from when you build your office chair. The standard options come with 4 to 5 chair adjustment options.
Or upgrade to the tiltamatic chair mechanisms for a heavy duty version while still having the ability to choose between 4 or 5 adjustment options.
Chair Seat Size
Every users' needs are different. Arteil has advanced sliding seat options to fit all customers, no matter your requirements.
The sliding seat options are available on all Duomatic mechanisms and offer 5 unique locking positions to create the perfect custom office chair.
Office Chair Base
The two most common office chair base options are the 5-star black base and the polished aluminium base. Both options offer a durable chair base to suit most custom office chairs and stools.
Following the selection of your chair base, you'll need to decide between castor wheels or glides. 
Castors & Glides
Choice of castors for your new custom office chair will depend on the surface your new chair will be placed on. Options include standard, lockable and brake loaded and unloaded.
When building your own office chair, you also have the option of glides which are perfect for chairs that don't require the ability to roll.
Air Lumbar Support
Air lumbar support allows you to adjust your back comfort to reduce and relieve lower back pain.
The level of support is easily adjustable, helping create the perfect custom office chair for anyone that is seated in the same position for many hours every day.